REQUEST A QUOTE
Q Cells Battery: Q Core H5
DC Coupled Hybrid Battery System / Exclusive to Q.Partners
Q Cells Battery: Core H5 DC Coupled Hybrid Battery
The Cells Battery: Q Core H5 Fully Integrated solar inverter and battery storage
The optimal blend of performance and design, integrated solar inverter with storage, and a 15-year warranty on the product.
The Q Cells Battery: Q Core H5 system is the complete energy solution for your home.
The entire system is Manufactured by Q-Cells in South Korea and utilises the Q.SAVE battery modules which are manufactured by Samsung SDI.
Each Q.SAVE battery module is 6.86kWh and scalable up to a maximum of 3 units or 20.5kWh.
The Q Cells Battery: Q Core H5 system comes fully integrated with a high-performance solar inverter, the 5kW Q.VOLT H5, which is capable of coupling with up to 8kW of DC Solar Panels.
Q Cells Battery: Q Core H5 Scalable and Intelligent Integrated Energy Management System
The Q Cells Battery: Q Core H5 is one of the most efficient and dependable solar batteries on the market due to its easy and quick installation design, expandable energy system, seamless operation control, and algorithmic optimisation of battery availability.
The Q Cells Battery: Q Core H5 is the next step in solar energy system integration. Combining the high performance hybrid inverter Q.VOLT with up to three modular Q.SAVE batteries, the Q CORE system is a streamlined, aesthetically pleasing, and powerful solution.
Using the Q.OMMAND HOME monitoring and energy management software, the system optimises energy output by incorporating real-time weather updates into its operation schedule to provide you with the best possible solar experience.
The Q Cells Battery: Q Core H5 is the ideal system to combine with any of Q CELLS' award-winning, high-performance solar modules in order to significantly cut your electricity costs.
Hanwha Q CELLS is one of the world's largest solar cell producers, and its products have earned a stellar reputation for their high quality and efficiency. Since 2009, they have been one of Australia's most trusted solar brand for a reason. They were created with the purpose of innovating and applying their state-of-the-art solar technology to provide clients throughout the globe with the most advanced solar products.
The new Q Cells Battery: Q Core H5 is their most recent innovation, expanding upon the Q.HOME to provide their clients with the most advanced battery solutions.
The Q Cells Battery: Q Core H5, like its predecessor the Q.HOME, provides Australian homeowners with a unique opportunity to acquire a truly complete energy solution, with the inverter, battery, and panels all coming from the same manufacturer, providing the advantages of a single point of contact with their Australia support office, which offers: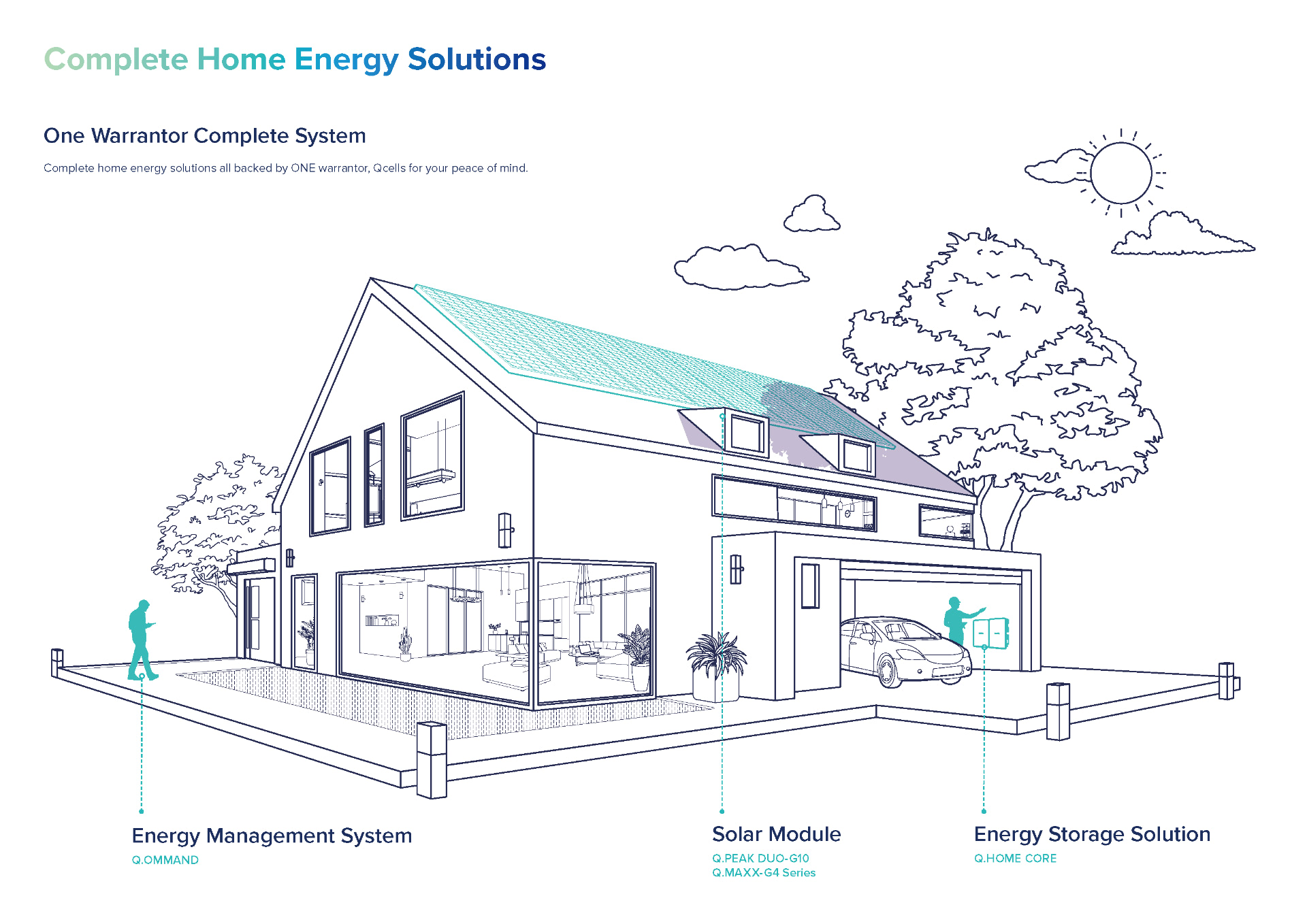 Equipment design emphasising enhanced installation ease.
Dynamic optimiser setting
By adding real-time weather data, the algorithm maximises energy yields.
Adaptable battery with capacities of 6.8 kWh, 13.7 kWh, and 20.5 kWh to meet varying energy demands.
Comprehensive 15-year product and performance guarantee.
Exceptional system dependability with Samsung SDI batteries.
24/7 Live Monitoring
7-days-a-week support line
Active fault alert monitoring 24 hours a day, seven days a week

National network of support technicians
Q CELLS solar management app, Q.OMMAND GO
The Q.Ommand Go App enables the monitoring and administration of energy generation, storage, and consumption at any time and from any location in the world.
It provides a real-time view of your energy flow as well as monthly, daily, and even hourly information on the performance of your home.
Advanced AI algorithms provide real-time dynamic optimisation based on external parameters like as weather, solar generation, and daily usage.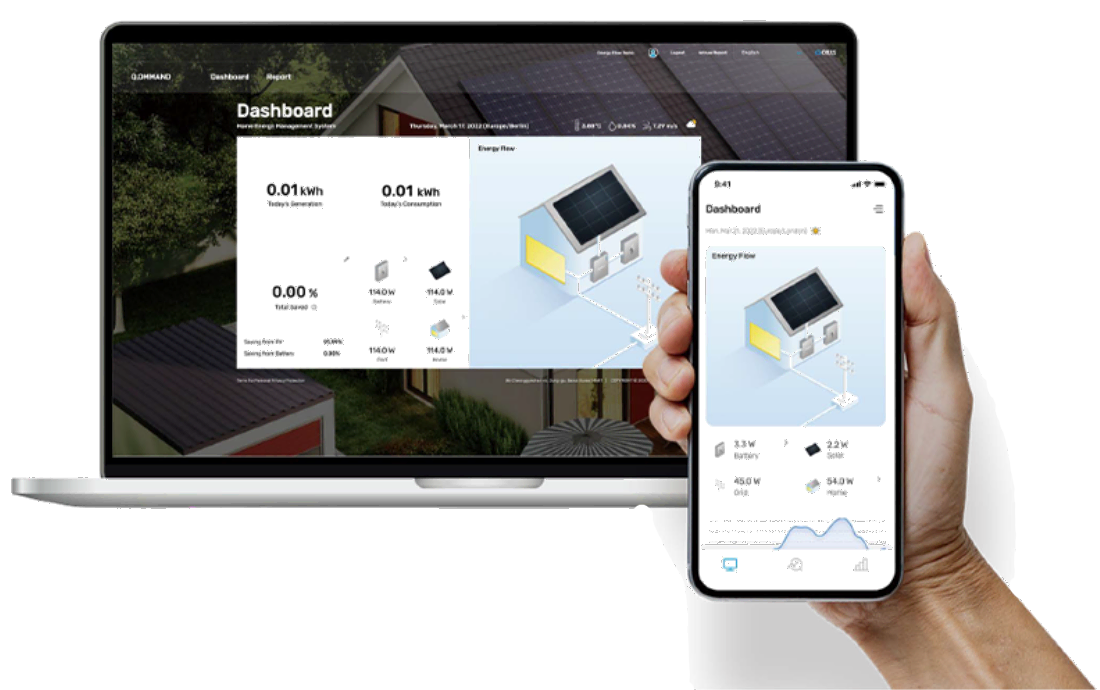 Real-time update every three seconds.
Monthly, daily, and hourly reporting available.
Provide energy overview, battery performance, usage data, and customised alerts and more.
Q.OMMAND Home provides three smart functions as below.
Qcells advanced AI algorithm incorporates weather information with real-time data from your solar modules and energy storage system to maximise energy usage and generation.
In case of blackout, you can set the amount
of energy your Q.HOME CORE will always
store.
Cloud-based software updates continuously
adds new monitoring and management
features.